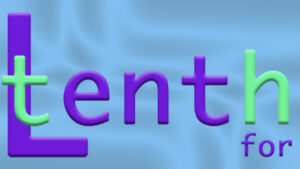 Dear First Church Family,
Millions of people give something up during Lent as a sign of sacrifice and to test their self-discipline.
I want to try something different (my trademark something different). I want to encourage us all to give a tenth of our income that we receive during lent to the Church and see what happens. This came to me in my sleep last night and I feel like it was Spirit led.
Lent is about giving up something so that we can focus on God and giving a tenth is about a means of grace or touch of God. So, this year I feel called to invite us all into this grand experiment instead of giving up coffee or chocolate. It isn't about the money. It is about growing closer to God. Take a chance from now until Easter. I believe you and I will be blessed with a movement of the Holy Spirit.
Now, I know that a few people already give a tenth, so for you, what ever you feel God calling you to give in addition during this period will be your challenge. Please join me for a tenth for lent, starting next Wednesday as we celebrate Ash Wednesday
-Tom Nelson