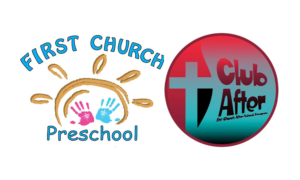 Thank you for your interest in First Church Preschool! The 2022/2023 school year marks our fourteenth year as a licensed preschool in our community and in May 2015, we reached a long – time goal of becoming fully accredited through the United Methodist Association of Preschools. We believe in providing exemplary care and education to all the children that God sends to our program, and in partnering with parents on this early childhood journey. We also offer After School Pickups for Spruce Creek Elementary, SugarMill Elementary, and Port Orange Elementary for our Club After. (Open until 5:30pm everyday)  I'd love the opportunity to meet you, introduce you to our qualified and passionate teachers and staff, and to answer any questions you might have. Stop by any time for a tour!
With Joy!
Ashley Gonzalez
386-767-2689 (Preschool Office)
386-767-6161 (Church Office)
[email protected]
VPK Certificate of Eligibility Applications
VPK Certificate of Eligibility Applications can be found at www.elcfv.org
If you have any other questions or require more information, please contact Preschool Director Ashley Gonzalez.
Pre-School Mission Statement

First Church Preschool is committed to providing a Christ-centered, quality learning experience that is developmentally appropriate for preschool children 2-5 y

ears old.

First Church Preschool is committed to providing the following objectives:
Teach each child to know they are wonderfully unique and a child of God. (God Made Me, God Loves Me, and Jesus wants to be my "Forever Friend")
Provide a safe, Christian environment for the spiritual, social, emotional, cognitive and physical development of preschool children.
We commit to providing quality, affordable preschool education in the Port Orange community and to the First United Methodist Church of Port Orange family.
Staff will support each other as we work to grow in our roles as Christians, parents, and educators.